Haven is a German wheat beer primarily showcasing yeast driven flavors and aromas, known predominately for its banana and clove characteristics. A medium bodied, full flavored and easy drinking wheat for the hot days of summer.
Dead Blow is a Tropical version of the Foreign Extra Stout. Eighty pounds of macerated dates made its way into this brew, partnered with a Dry English Ale yeast to provide a vibrant fruity/tropical aroma with a slight amount of fruity esters. The Dry English ale yeast helps this beer attenuate lower, however leaving a residual sweetness on the finish as well as increase the fruity characteristic received from the Dates. Dead Blow is a dry, roasty, fruity, full bodied, smooth stout, that is lighter on bitterness.
A serendipitous balance of North American and European specialty malts, paired with a lavish selection of West Coast hops; giving an intense, one – two punch to the uvula. Now with homegrown Michigan Cascade hops! This beer is good for drinking!
Born from bringing together the brew masters of Perrin Brewing, Cigar City Brewing, and Oskar Blues Brewing, this big bodied, robust Oatmeal Imperial Stout was brewed with a wide spectrum of malts from around the globe, experimental hops, and a special London ale yeast strain. Triangulation is a beer that shows our strength and unity through the sum of all parts…
Just one sip of this Red Hopped Mama conjures up the history lesson we all learned as kids. Everyone knows the story of Captain Shaddock sailing from East India with pummel seeds in tow on his way to the Caribbean to change the face of fruit forever, but Shaddock could have never imagined that his Barbados forbidden fruit would find its way into the beer glass in front of you. From East India to the West Indies, from Texas to Comstock Park, the short legacy of this 300 year old little fruit that could, continues with you ordering up a cold one.
We just want to have fun making great beers, and Blah Blah Blah IPA sure seemed like a good way to do it. Blah Blah Blah IPA is a maltier, amber-colored take of the traditional IPA. We incorporated some interesting malts including imported Baird Caramel 80, a darker, sweet crystal malt; Belgian biscuit malt to give it a toasty flavor; and German dark Munich malt for body and color. We also hopped this ale a bit differently than we normally do with most of the hops being added at different times very late in the boil for a full hop "jammy" flavor and bright aroma. We then dry-hopped it very agressively using five different hops including a newer experimental varietal to pack in flavors and aromas of pine, citrus, grapefruit and jam. Blah blah blah, just try it. YEAST: American Ale MALTS: 2-row base Malt, Baird 70-80 Dark Crystal, Weyermann Munich 2, Weyermann Carafa III, Castle Biscuit HOPS: Warrior, Centennial, Ahtanum, Amarillo, Mosaic, Citra, Chinook, Simcoe, Equinox
Need we say more!!!!
This electrifying transformation of our famed Golden Monkey may just blow your mind. Tastefully twisted to offer nuances of sweet fruit, and a sharp tang of tartness, this exhilarating combinations of flavors makes this brew a monkey all it's own. C'mon respect the monkey and Taste Victory!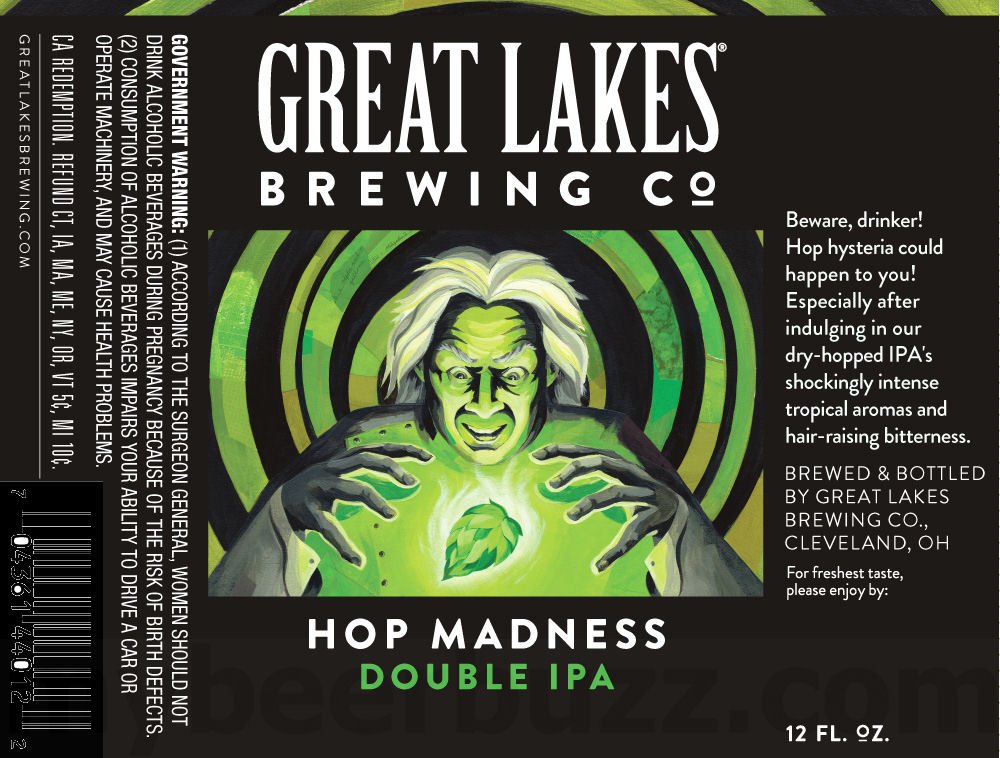 "Hop Madness" is a cask conditioned, dry hopped India Pale Ale that leaves a bitter aftertaste, perfectly describing the mood of Cleveland sports fans these days.
Brilliantly balanced for easy drinking, this pale ale is packed with citrus and tropical fruit flavors from eight different hop varieties.
Crafted with tea leaves and lemon juice.
This is Galacticake and it is a double IPA that is actually their Space Cake beer dry-hopped with the hops used in their Galactica IPA
It's summertime. Hop bines are growing up to 6 inches a day. Hibiscus is in full bloom. And in Crimson Pistil, the two get in a glorious tangle of berry-like tanginess, sunset technicolor and sticky tropical notes.
Troy Guard is a Denver chef with a Mexican restaurant so badass we can't even put the name on this can. While enjoying his food we had a crazy idea: brew a Mexican-style lager with corn, natural lime juice and just a hint of salt. We recommend it with the Rattlesnake Chorizo Guac- Yep, that's real. Salud amigos!
Kombucha style beer Gluten free.